Cruel Summer is back with even more throwback vibes. The highly-anticipated season 2 premieres on June 5 and takes us back to the summer of 1999 when Isabella, a foreign exchange student, arrives in Chatham and changes Megan and Luke's lives forever. HollywoodLife spoke EXCLUSIVELY with Lexi Underwood and Griffin Gluck about how Isabella shakes things up between longtime best friends Megan and Luke.
"When Isabella first comes to town, this is Isabella's first time being back in the States since she was born, so she is coming with this idea of what her senior year, all American high school life is going to be and what it's going to look like," Lexi told HollywoodLife. "When she sees Luke, she immediately becomes infatuated with him. Isabella is the type of person where when she wants something she's going to get it, and she doesn't back down. But she sees in Luke this kind of perfect all-American boy that she's always seen in like TV shows and movies, and she immediately really just latches herself onto him in a sense. But over the span of the next year, you really get to see their friendship, relationship, is more than just infatuation. They genuinely are friends. They genuinely do care about each other and each other's feelings"
Isabella winds up staying with Megan's family, which creates an "interesting dynamic." Lexi admitted that Megan is not "feeling her [Isabella] at all" initially. Lexi continued, "Obviously, Luke and Megan… that's Megan's territory, so the fact that I'm entering this space that she's always known and she's always had that relationship, that connection, with Luke, the fact that I'm entering it in a sense feels like I'm an intruder. It's a tricky relationship [for] the three of them to navigate through that."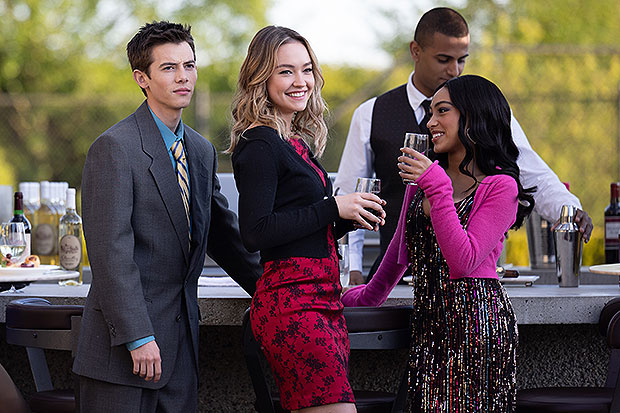 Griffin pointed out that Isabella is the "catalyst that actually wakes Luke and Megan up to they who they are to each other. They were these best friends for so long and in a sense Isabella's stepping in and encroaching on this territory."
He added, "But none of them have any idea she's actually encroaching on territory. Luke and Megna are oblivious to the fact that they actually like each other. They've known each other their entire lives. They just have that level of comfort built in, and they don't recognize it until Isabella shows up… She is the catalyst that a) sets things into motion and b) makes things complicated." Cruel Summer airs Mondays on Freeform.
Click to Subscribe to Get Our Free HollywoodLife Daily Newsletter to get the hottest celeb news.