Stepping on to the concrete pitch she spent hours playing on as a child, England defender Lotte Wubben-Moy resists the urge to get nostalgic.
Instead, she is hoping to use the space to inspire others by plastering the surrounding metal cage with images of everyday women playing sport.
"There's thinking about it, there's talking about it and then there's actually providing the actions that will actually make the impact," Wubben-Moy exclusively told Sky Sports.
"Even just in London, I'm one of the only Londoners in the Lionesses team. It means a lot to be here in Bow, and you see the pictures here today and it's normal and can uplift the young girls going by.
"It's no difficulty to see there's a lack of diversity in the Lionesses squad. It doesn't reflect London, it doesn't reflect the country's demographic as a whole.
"It's not just looking onto the pitch at the team that's fielded. It's looking in the boardrooms, the scouting rooms, the coaching staff where you don't see the reflection of society in London or in England.
"We need to do a better job of reflecting society as a whole and I know there's more change to come."
Footballers are asked more than most to show their social conscience and Wubben-Moy does so proudly.
As well as being a strong advocate for increased diversity in the game, the Arsenal player led the way when taking on the problem of access to sport for girls in schools.
It was a journey that started on the England team bus during their Euros celebrations when Wubben-Moy asked how the players could build a legacy that made a real difference.
Lionesses Leah Williamson andWubben-Moy announced girls will be granted equal access to all school sport as part of a package of measures unveiled by the Government

It ended when the Government agreed to guarantee equal access to sport for girls in schools, after months of meetings with the Prime Minister and other cabinet members.
"At the time of the Euros 63 per cent of girls would go to school and be able to play football, that means there's a massive percentage not being able to play like their male counterparts," she said.
"It's just one example of how, on a grassroots level, we need to make change. That's just the start, there's still a lot of work to be done. That's what these next few months, well next few years, are about.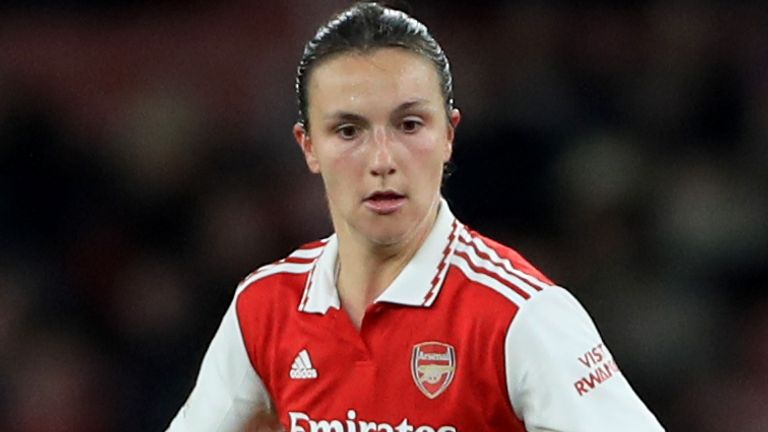 "We need to continue the conversations, keep the pressure on and I know Ofsted will help a lot in terms of making sure the Government are putting their resources into the work they've agreed to be doing for us."
Wubben-Moy has had a wild 12 months. Winning the Euros, a hard-fought WSL campaign and a Champions League semi-final defeat in front of a sold-out Emirates helped her gain a World Cup call-up.
But it has also been a year which has involved pressuring the Prime Minister while the world looks on.
"I'm not a politician. It's not about me, it never was about me and I know a lot of conversations have been had in the media about me being the catalyst for it," she explained.
"It takes an idea but it also takes implementation and there are a lot of people that helped towards that.
"Leah Williamson, the rest of the Lionesses, they all had to overcome obstacles when they were growing up and they didn't want those same obstacles being in place for young girls."
Wubben-Moy has also taken the time to be an ambassador for Gillette Venus' #MoveYouSkin campaign so she can highlight another cause close to her heart.
"We speak about those tangible barriers, like girls not being able to play football at school, but there are so many intangible barriers we need to look at in society," she said.
"One of which is a third of women don't want to participate in sport because they don't like how their skin looks.
"To me that's one; such a shame, but two; an opportunity as there can be changes made. That third can be a third that wants to participate in sport and do feel proud.
"The thought they may not be able to have that because of how their skin looks is not a good enough excuse. That's why we're looking at photos like this today and celebrating them."
For Wubben-Moy the power of the athlete's voice is a crucial tool in making society a more equitable place.
Her off-field legacy is already greater than almost any other sportsperson in the country, while also hoping her on-field success continues in Australia this summer.
The group stage will begin on July 20 and run over a two-week period finishing on August 3 and see group winners and runners-up progress to the round of 16, which takes place from August 5 to August 8.
The quarter-finals, which will be held in Wellington, Auckland, Brisbane and Sydney, are scheduled for August 11 and 12.
The first semi-final will then be played on August 15 in Auckland, with the other semi-final taking place on August 16 at the Accor Stadium in Sydney, which will then host the final on August 20.
A third-place play-off will be played the day before the final on August 19 in Brisbane.