Anne Keothavong has backed Katie Boulter to give "vulnerable" defending champion Elena Rybakina a run for her money at Wimbledon.
The British No 1 is through to the third round for the second year in a row and has been rewarded with a plum tie against the third seed.
Rybakina has built impressively on her first grand slam title, reaching the final of the Australian Open and winning the big events in Indian Wells and Rome, but she came into the event under-cooked after illness and has looked shaky at times in her opening two matches.
Keothavong, the captain of Britain's Billie Jean King Cup team, said of Boulter, who won her first WTA Tour event in Nottingham last month: "She's been playing some fantastic tennis.
Britain's Katie Boulter says she is looking forward to the next round of Wimbledon against Viktoriya Tomova after a 'brutal' match against Daria Saville in the first round.

"It's not just this tournament but over the last few weeks. It's taken time for all of that to come together. And the biggest thing is she's been able to remain fit and healthy for a long period of time, which for Katie has always been a challenge.
"It doesn't get any easier again but Rybakina hasn't really come into this year's champs playing lots of tennis. I think this is a good time for Katie to play against her, or for anyone really to play against her, she has looked vulnerable at times.
"And, if you were to be in Rybakina's shoes, you're up against a British number one who is popular, who the British public are now familiar with, who will have the majority of that crowd supporting her, which is a situation I don't think Rybakina has found herself in really anywhere around the world too often.
"Katie, she's a big-match player, she will absolutely love it. It won't be a daunting experience for her, which I think is a big thing. It's not the first time for her going out on Centre Court. Having had that previous experience, that will help carry her.
"It's a great opportunity. And it's one where she can swing with freedom and go out there and play."
Boulter claimed the biggest victory of her career so far in the second round last year against former finalist Karolina Pliskova on Centre Court.
"I think I've got the whole entire thing in my memory," she said. "It was an incredible match. I still think about the time that I served it out. That's something that I draw on.
"I'm already excited to play against a top player and have a go. I think they're the moments I get excited for because ultimately it's a time for me to test myself."
Boulter will hit a career-high ranking around 70 even if she loses on Saturday and Keothavong highlighted the greater variety she has added to her game under coach Biljana Veselinovic as a key factor in her progress.
"You can see she's trying to use the drop shot more often, she is trying to look to use width more often," said Keothavong. "So it's not just straight flat-ball hitting through the court.
"And that's the work she has been doing and focusing on with Biljana. And I do think Biljana has been fantastic for her. The team she has around her, they're all good people. And she's had some consistency there in that area."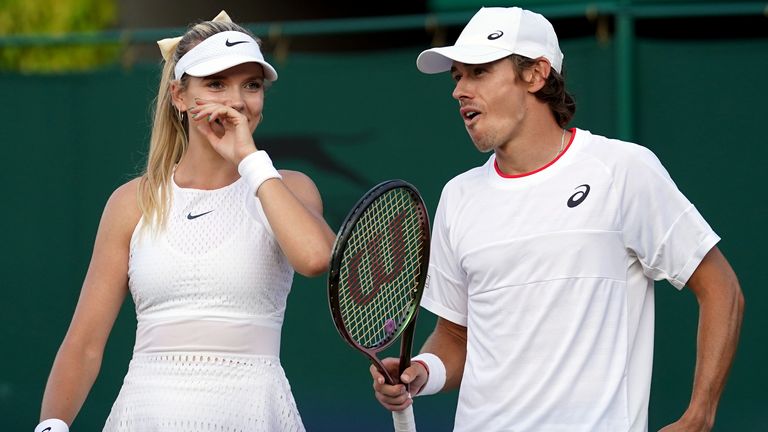 Boulter is also very settled in her personal life and was out on Court 18 on Friday watching long-term boyfriend Alex De Minaur in his second-round loss to Matteo Berrettini.
Boulter has spoken about how much she has learned from the Australian's grounded nature, and Keothavong believes they are a good influence on each other.
"Alex is so down to earth and so lovely," said the former British number one. "They are sickly in a very cute kind of way.
"You can tell how much they care for each other and how much they support each other and it was great to see him court-side supporting her after his match and you see it within their families as well.
"It's hard enough being a tennis player, the emotional highs and lows. You need people around you who are going to stay level-headed and not look too far ahead or get too excited but help you keep your feet on the ground."
Rybakina does not expect the partisan atmosphere to be too much of a challenge, saying: "For sure the atmosphere is going to be a bit different. The crowd won't be supporting me that much.
"I'm sure it's going to be good. Just hopefully I'm going to win this match. I'll try my best. She's a tough player. Her game is aggressive. Also she has a good serve. It's going to be tough one."