Novak Djokovic brushed aside the challenge of old foe Stan Wawrinka in their first Wimbledon meeting while world No 1 Carlos Alcaraz was given a stern test of his title credentials.
The match did not begin until 8.40pm, an hour later than Andy Murray and Stefanos Tsitsipas got under way on Thursday, but Djokovic finished a 6-3 6-1 7-6 (7-5) victory with 14 minutes to spare before the dreaded curfew to book his place in the fourth round.
The Serbian is now undefeated on Centre Court for a decade with his last loss on the world's most famous tennis court coming against Andy Murray on July 7th, 2013.
It was a 31st consecutive victory for Djokovic at the All England Club, equalling Pete Sampras' best, and the seven-time champion said: "He was two points away from extending this match to another day. Coming to the court we knew it was going to be really tight.
"I know I can always play better, I always have a couple of gears that I can go higher. Hopefully as the tournament progresses I can play better and better."
Djokovic pounded precision groundstrokes into the corners, time and again drawing errors from his opponent after thumping exchanges.
Wawrinka's statistics did not make pretty reading but it would be harsh to criticise the veteran too much, aside from a very low first-serve percentage, given the barrage of quality coming from the other end.
He served much better in the third set and fought exceptionally hard to force a tie-break.
Djokovic had won his last 11 tie-breaks at Grand Slams, famously not making an unforced error in six at the French Open. That record was in danger here when Wawrinka went 5-3 up but he was unable to send the contest to a second day as Djokovic booked a date with Hubert Hurkacz.
Speaking about the Polish 17th seed, Djokovic said: "His serve is extremely powerful and he covers the court very well," Djokovic said of his next opponent. "He has very long arms and he has a very good feel at the net.
"He's just overall a very complete player. I don't see too many holes in his game. I know that's going to definitely be the toughest challenge for me of the tournament so far.
"He's very comfortable playing on grass. He hasn't dropped a set in the tournament so far and he beat [Roger] Federer here some years ago. It's going to be great battle. I look forward to it."
Carlos Alcaraz had to work hard on his second Centre Court appearance at Wimbledon to earn a straight-sets victory over Alexandre Muller in round two.
Alcaraz was given a stern examination by France's Muller during a contest that lasted two hours and 32 minutes, but ultimately progressed 6-4 7-6 (7-2) 6-3.
It made it seven consecutive wins on grass for the top seed, who is viewed by many as the most likely candidate to stop Djokovic in his pursuit of a record-equalling eighth title at the All England Club.
"I feel that I belong in that court. I feel like I'm ready to play more matches, to play more great matches on that court," he said.
"There's a lot of great players playing here on grass, that feel really, really comfortable on grass. I have to be really, really focused until the final.
"It's a lot of matches ahead. I can't relax. I have to play my best in every match. Let's see if I reach the final or not."
Alcaraz is always ready for the Slams
Carlos Alcaraz is 28-1 in Grand Slam main draw matches when he won the opening set (and he won the last 27) – he only lost to Mikael Ymer at the Australian Open 2021 in this situation.
Impressive wins for Rune, Berrettini & Medvedev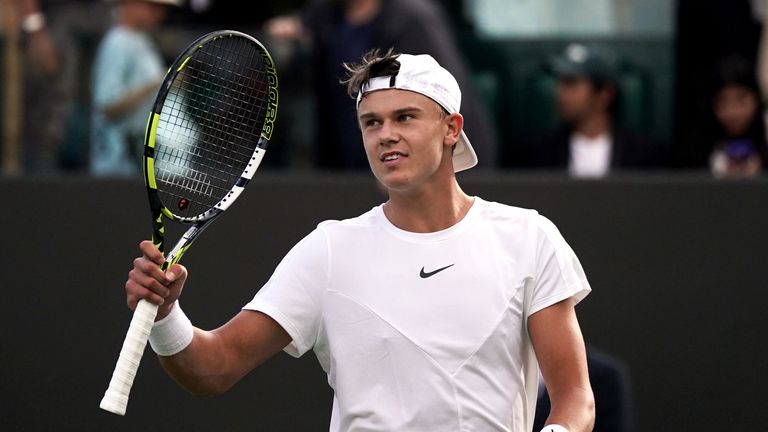 Holger Rune dazzled the packed crowds as he beat Spain's Roberto Carlos Baena to storm into the third round.
The charismatic 20-year-old produced his full repertoire of silky shot-making to win 6-3 7-6 (7-3) 6-4.
Rune became only the fourth Dane to reach the men's third round at Wimbledon and the first for nearly 20 years.
"He made it very difficult and didn't give me anything for free, but I think I managed to raise my level and close to the end I got unbelievable support from the crowd," Rune, who twice had to recover service breaks in the opening set, said on court.
"I love getting the fans involved, it was unbelievable, really cool and I hope we can bring it all the way."
Rune's game style and casual demeanour have made him a hit with young fans who chanted "Ruuuuune" at regular intervals, and he responded with some exquisite winners and won a multitude of points with cunningly disguised drop shots.
Matteo Berrettini stunned Australian 15th seed Alex De Minaur with a 6-3 6-4 6-4 victory on Court 18 as the Italian looks to rediscover his form after injuries that have left him outside the world's top 30.
"Last year, what happened last year is something that I think it didn't heal yet. It's a really sharp pain, if I think about it," he said.
"I probably was in the best shape in my career, especially feeling great on grass. I wanted to enjoy the tournament. Such a special tournament for me.
"Not being able to play was something that, even when I was better physically, was really tough mentally to overcome.
"That's why I'm here this year, because I missed last year. I was really sad. Even playing like a few points would have been good this year.
"That's why I'm really happy. I'm really glad. I know it's the third round, but it feels like way more."
Focused Berrettini
Matteo Berrettini has won 12 of his first 15 matches in Wimbledon.
In the last 30 years, only David Nalbandian (13-2) had more men's singles wins at the Championships after such main draw matches.
Third seed Daniil Medvedev advanced with a 6-3 6-3 7-6 (7-5) win over Frenchman Adrian Mannarino on Friday after their match was suspended due to bad light the previous day.
The Russian was angry when play was suspended on Thursday evening while he led by two sets with the score at 4-4 in the third.
Medvedev returned to Court Two and duly completed victory to set up a third-round meeting with Hungary's Marton Fucsovics.
"It's not easy to play two different days. The last time I had it, I lost to Hurkacz here two years ago," he said.
"At 4-4, it's never easy. Straight away you're nervous, you don't want to lose this set because the momentum of the match can change.
"So I'm happy that I managed to close it out on the tie-break. Happy that I managed to push it through and be here tomorrow."