Rory McIlroy carded rounds of 65 and 67 over the first two days at Los Angeles Country Club to bolster his hopes of a first major victory since 2014; Watch the US Open throughout the weekend live on Sky Sports Golf
Last Updated: 17/06/23 3:49am
What has Rory McIlroy done well at the US Open and can he turn a strong start into a fifth major victory? Former PGA champion Rich Beem reflects on an impressive opening two rounds in Los Angeles…
I think McIlroy is right where he wants to be right now. There might still be 36 holes to play, but you've got to believe he loves his position after making such an impressive start to the week.
It has almost been a tale of two different nines for McIlroy so far, as he his ten under on the front nine hole and two over for the back, although that disparity is something you're going to see with a lot of players.
He got off to a flying start on Thursday and reached the turn in five under, then would have been frustrated by that bogey on the last and falling three behind Rickie Fowler and Xander Schauffele after such a low-scoring opening day.
There was a little more sluggishness when he started round two but it was still fairly steady from him, with McIlroy remaining patient with the knowledge that there was a ton of opportunities coming his way.
McIlroy took full advantage and just looked like he was completely in the zone about the task at hand, from the moment they announced his name on the tenth tee at 8.24am on Friday right through to him completing that impressive finish to his second round.
It's hard to look away from his driving, which has been so strong this week. He has hit it so far off the tee when he elected to use the driver, which wasn't always the case, and found over 80 per cent of fairways over the first two days.
McIlroy has also made some key putts at key times, which is the part of the game that is going to be important for him if he's going to keep that momentum going over the final 36 holes.
If you look at what he has done in final rounds earlier this season, with his recent appearances at The Memorial and RBC Canadian Open coming to mind, he hasn't made good start with the putter. He can't afford for that to happen in any stretch over the weekend.
What is different for McIlroy?
He has looked like a different human being, and I think there has been a real noticeable shift in his attitude. It's almost like he said to himself 'I want to win another major, US Open, I've got to be the toughest guy out here', as that's certainly what it looked like.
It was the same when he finished his first round, where he decided not to talk to any of the media after walking off the 18th green. I love that he's being slightly more selfish there and thinking about himself, rather than worry about all off-course distractions he has had in recent months.
Every player takes something away from missing out on victories and it's probably the mental side of things that McIlroy had learned most, rather than necessarily anything on the golf course.
He has seen it and done it all in his career, but I think he realises he's got to be that little bit more selfish and a little bit tougher over the weekend than he has in his last two starts.
Live US Open Golf
June 17, 2023, 6:00pm
Live on
There's something about this golf course that appears to suit his eye though, especially on the greens, and I've got the impression that McIlroy – from what we've seen over the first two days – really loves playing around Los Angeles Country Club.
McIlroy is the type of player who would rather chase than be chased, as it keeps him focused and he knows the task at hand, so he will head into the weekend confident of going ahead and chasing down whoever is in front of him.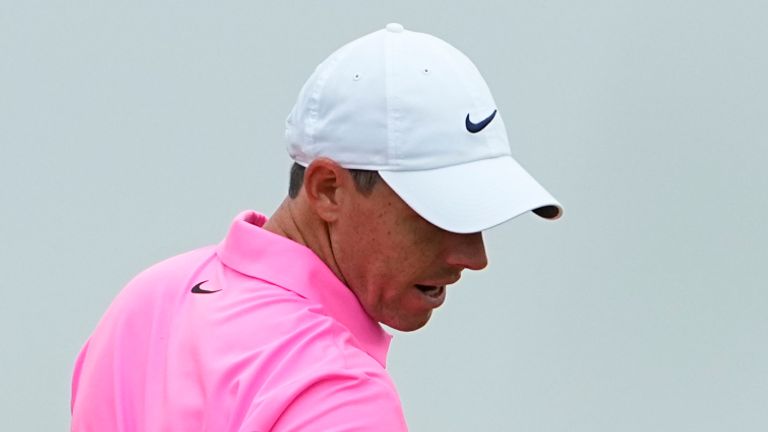 He and caddie Harry Diamond will forget about everything that has happened over the past few weeks, both on and off the golf course, and stick to the two days ahead. I think you'll see them have a little bit more chatter this weekend and, if they do, they're going to be tough to beat as a team.
I'll be shocked if McIlroy is not in the mix heading into the back nine on Sunday here. It would be unfathomable for him not to be and, given he looks so good at the halfway stage, it surely just has to happen.
Who will win the 123rd US Open? Watch throughout the weekend live on Sky Sports. Live coverage continues Saturday from 6pm on Sky Sports Golf and 10pm on Sky Sports Main Event.