Rachel Daly has had quite the year.
Last July, she played all six games at left-back as England won Euro 2022. In August, she left Houston Dash of the NWSL to join Aston Villa. In May, she won the WSL Golden Boot after a record-equalling haul of 22 league goals.
This month, she will go toe-to-toe with Alessia Russo for the central striking role in Sarina Wiegman's Lionesses team for the Women's World Cup in Australia and New Zealand.
Lionesses' World Cup Group D fixtures
England vs Haiti – Saturday July 22, 10.30am BST
England vs Denmark – Friday July 28, 9.30am BST
China vs England – Tuesday August 1, 12pm BST
The response to whether she thinks she can lead the line for her country as a result of her brilliance throughout the season is well rehearsed now – she insists she will play wherever she is needed.
Her versatility is her unique selling point, after all.
Rachel Daly reflects on the excitement of the World Cup and how it compares to the Euros, as well as explaining that she is ready to play in any role in Sarina Wiegman's plans

But how did it come to be that the 31-year-old became adept at playing at both ends of the pitch?
With help from those she has worked with throughout a career that has taken her from Leeds to Lincoln, from New York to Houston and back to the UK, we take a closer look at the making of Rachel Daly.
A special documentary featuring Jessica Ennis-Hill, Charlotte Edwards and Katherine Grainger examines whether there is a gender bias in kits and equipment used within women's sport.

Daly the Leeds, Lincoln left-back
Daly had progressed from the Leeds United centre of excellence to the first team by the time she was 17 and was part of Lois Fidler's England U17 side that finished fourth at the 2008 World Cup in New Zealand.
She was named on the bench for the Premier League Cup win over Everton in February 2010, too. That triumph – Leeds' first and only major trophy to date – came one month after it was announced the club had ended their interest in becoming one of the founding members of the WSL.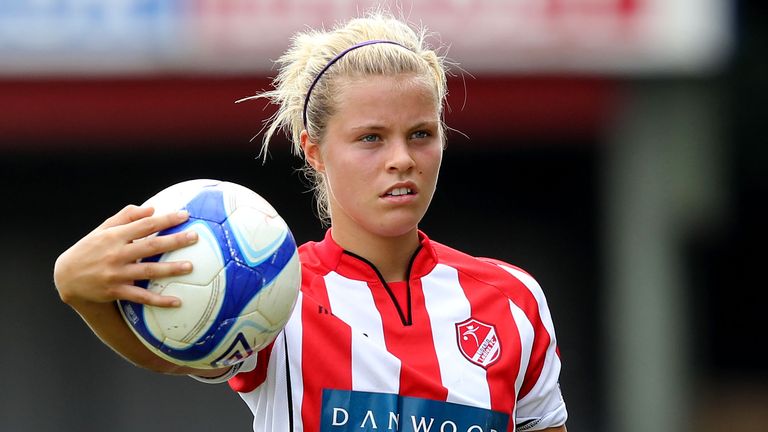 Their patrons, Leeds Metropolitan University – now Leeds Beckett University – were "unable to commit to the substantial increase in budgets proposed".
Lincoln City Ladies, however, had already secured their spot in the historic campaign – which started in March 2011 – and stepped in to sign several players from Leeds, including Jess Clarke and Sophie Bradley.
"We signed Rachel from York College," Glen Harris – who took over as the Lady Imps manager in October 2011 – recalls.
"One of her tutors was Gordon Staniforth, dad of Aston Villa's Lucy Staniforth, who I already knew through football. We spoke about his structure and setup and then decided to sign her.
"She was 18 or 19 at the time and such a character! We used her primarily at left-back and she was very tough on herself if she made a mistake, so her confidence could take a dip quite easily."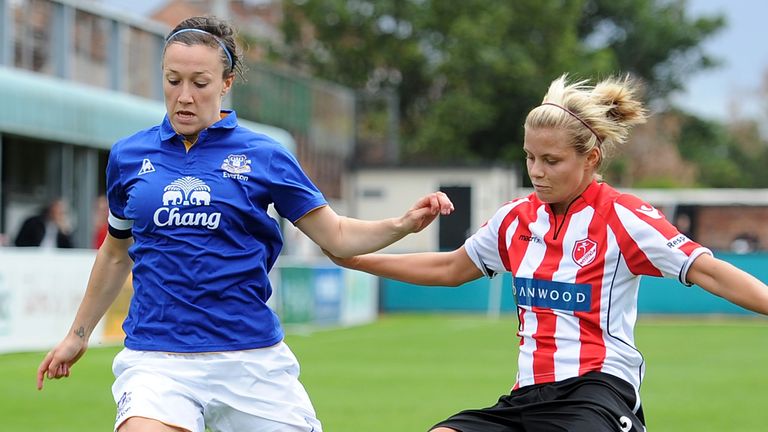 Harris is happy to admit he did not foresee such drastic development.
"Rachel was very much a marauding full-back that always wanted to get forward, but I wouldn't take credit and say she was always a centre-forward at heart. We were just happy she could play left or right-back and get up and down the pitch really well.
"We didn't want to lose her and some thought she'd last six months and be back. When she started scoring goals at college level, I wondered if she could do the same at international level – and she's proved that she can. From what I've seen, going to America was the making of her.
"I've seen clips from when she played in the States – and now in the WSL – and some of her movements are brilliant. Yes, she has been coached to make those, but now they seem pretty natural to her."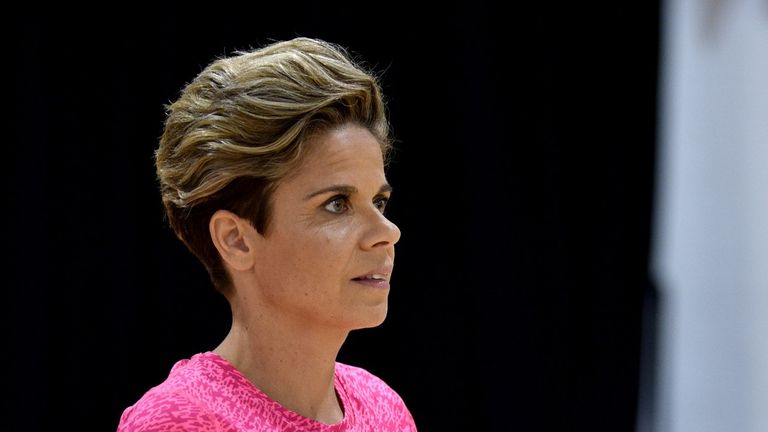 "When she started training with us at Leeds, nothing seemed to faze her. She was one of the younger ones, but she just played as she had always played," says Sky Sports' Sue Smith, who played with Daly at both Leeds and Lincoln.
"Looking back, you could see the potential, even though I wasn't really looking at things like that when I was playing.
"We formed a good relationship because, if I wasn't playing in the centre, she was playing behind me on the left. She was always quite flexible and versatile, so if you needed someone to go into the midfield area, she could.
"You could see that she was an attacking full-back who wanted to get forward and I often had to pull rank and tell her to stay back!"
Transformation in the States
After two seasons in the WSL, 21-year-old Daly was getting restless.
Speaking to englandfootball.com in June, she said: "I thought to myself that it was make or break time really – I've either got to go and make something of myself or stick with what I was doing.
"I wanted to continue my education and football and experience something new, so made the choice to leave Lincoln and go to college in America."
She enrolled on a sports management degree at St John's University in Queens, New York – from where rapper J. Cole had graduated five years earlier – and became part of Ian Stone's St John's Red Storm team.
In an article from 2020, ESPN wrote that Stone – an Englishman who played for Bristol Rovers' youth team as a teenager and has worked full-time at St John's since 1996 – recalled "it took him all of one afternoon's practice to feel confident that 'this kid's probably the best player that has ever or will ever play for St. John's University.'
Yet due to the fact Daly had already played in the WSL in 2012, college sport regulations stated she could not play during her freshman year.
When she did return in 2013, she had been transformed from a full-back with attacking intent, to a striker who looked as though she had played up front forever. She started all 21 games that season and set a new St John's record of 23 goals.
It was enough to warrant a first call-up to Mark Sampson's England squad in December 2013, though no debut followed.
Daly remained a key member of the team for the next two years and graduated in 2015. She remains the university's highest goalscorer of all time, with 50 goals in just 60 games – and 11 assists to boot.
On an appearance on the Athleticademix podcast in 2020, Stone spoke about his time working with her.
"I recruited Rachel Daly as a full-back, but it turned out she flourished as a centre-forward. Since then, she's gone on to represent England 35 times and played at the 2019 World Cup in France.
"It made me seem like a genius! But that's not the case; it's just an example of how important it is not to pigeon-hole a player into a certain position or style too early in their career."
'A true pro from day one' – making a name in Houston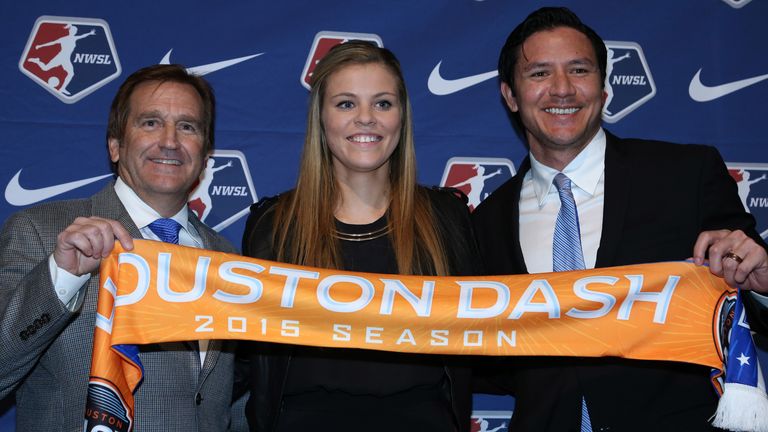 In January 2016, Daly was drafted by Houston Dash in the NWSL College Draft. Former head coach Randy Waldrum made it his outright priority.
"We watched Rachel progress as she was one of those kids that kept scoring goals and finding a way to make something out of nothing," the 66-year-old says, speaking from the University of Pittsburgh, where he is women's soccer head coach.
"I went to our general manager and said we needed to use an international roster spot on her as I thought she was going to be really good. And she was fantastic for us.
"Her work ethic was nothing but that of a true pro from day one. She wasn't full of herself; she's a very genuine person, very humble and family is very important to her. She works hard, she puts the extra work in, she's diligent about taking care of her body and staying fit."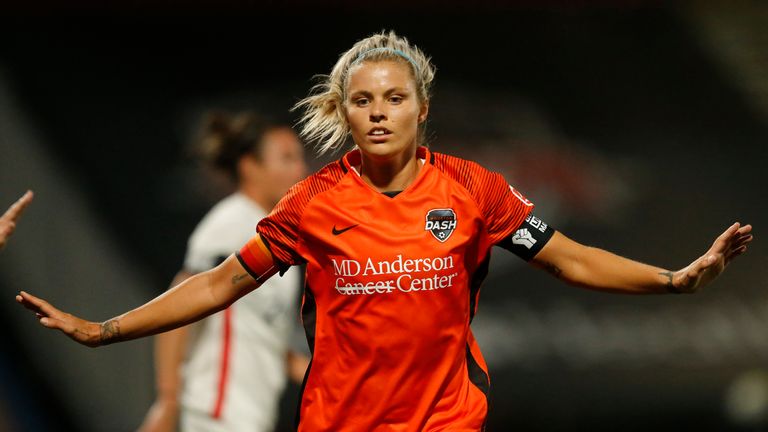 Daly's transition to centre-forward was already well and truly complete by the time she joined the Dash – Stone had made sure of that.
But as she broke into the England setup more regularly during Phil Neville's time in charge, the riches in attack – which included Ellen White, Nikita Parris and Jodie Taylor – meant her involvement in games often came from defence.
As a vastly experienced coach, Waldrum – who will lead Nigeria into the Women's World Cup this summer, too – understood why.
"In the early days, they were trying to play her as a full-back and, as a coach, I get it – you are trying to get your best 11 players on the field and, with what England had up front, it gave her an opportunity to gain some international experience, which was great.
"She could be a world-class full-back, if that's where she played all the time. She would excel at that. But she's got more to her game than that.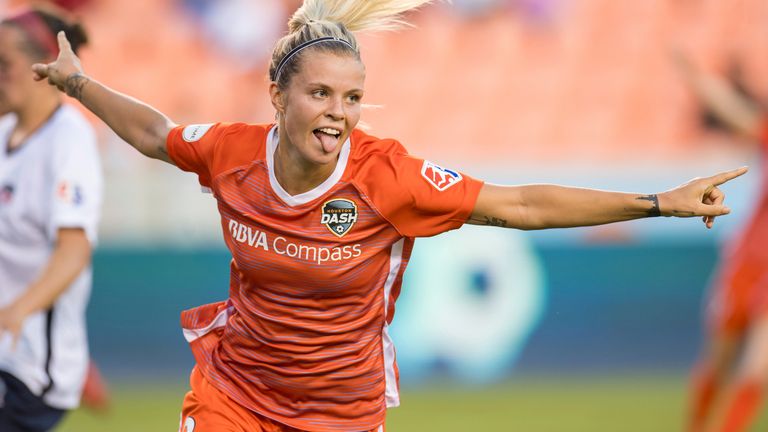 "She's learned how to be creative on the dribble, how to use her body to spin players in the box and the little ways to find that little half-step to get a shot off. She's developed into much more than being just a good player with pace who can run at you.
"As a full-back, she'd be playing against wingers that she had to learn, read and understand how to defend against, so I certainly think there's a translation to it. And, looking at it from a coaching perspective, it's always going to make her easier to select in the 11.
"I love her as a player and as a person. I drop her messages and try to stay in touch and I know she's very busy, but she'll usually get back to me. We'll always have that connection of being the ones that helped her break into the league here. But she wrote her own ticket; the credit is hers."
Grief and glory – two bittersweet years
In July 2020, football resumed behind closed doors after the first Covid lockdown and, while the 2020 NWSL regular season was cancelled, the Challenge Cup kicked things off again. Daly scored three goals in seven games as the Dash triumphed, collecting the Golden Boot and MVP awards as a result.
By this time, she had played 89 times for the Dash and scored 27 goals in four seasons in all competitions.
Little more than a month later she joined West Ham on loan. "The opportunity to have a proven England international in our squad on a short-term deal was too good an opportunity to pass up," said then-Hammers boss Matt Beard.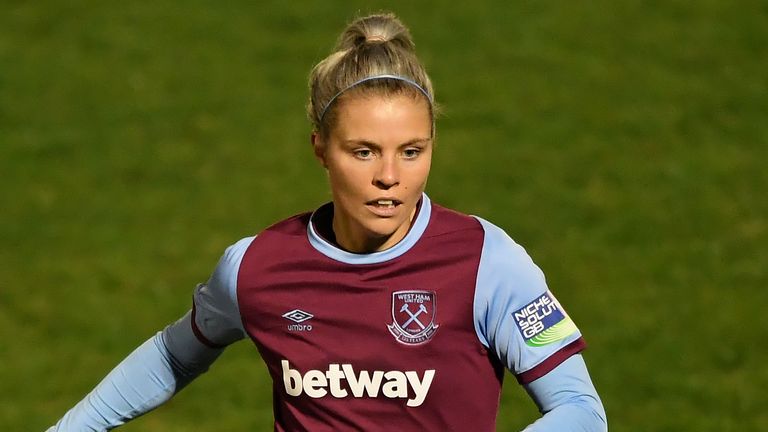 Daly hit the ground running; in 12 appearances in all competitions, she scored five goals and provided four assists.
In a flash, it was over. The loan ended in January and she stayed in east London to train with the club before returning to the US for pre-season training in February. In July 2021, she played in all four of Great Britain's matches at the Tokyo Olympics, as Hege Riise's side reached the quarter-finals.
Results-wise, there was no real rhythm to the 2021 campaign for the Dash – but that paled into insignificance for Daly when her world was turned upside down after the sudden death of her dad Martyn in September 2021.
"He was the reason I played football, going back to birth really. I came out wanting to kick a ball," Daly said, after scoring a late goal in England's 10-0 win against Luxembourg nine days after his passing. "I don't think I'd have got that passion for the game if it wasn't for him."
Speaking to the Houston Chronicle the following month, after scoring twice in a 3-2 win over Portland Thorns, she added: "I broke down a little after the game because I am never going to get a text from him again saying, 'Well done,' or 'I'm proud of you'.
"That's hard for me and something I've always had after every game. No matter what time of day it was at, he was always watching."
It would have been understandable if Daly had dropped off as a result; the loss of a parent often inflicts incomparable pain. That was not the case.
She returned to action by closing the 2021 season with four goals in five games, started two of England's three games at the inaugural Arnold Clark Cup in February 2022 and then started the 2022 season with four goals in six NWSL games, before being named in the England squad for Euro 2022.
At the home tournament, Wiegman selected her to start at left-back, over Alex Greenwood and Demi Stokes, in each of England's six matches on the way to glory.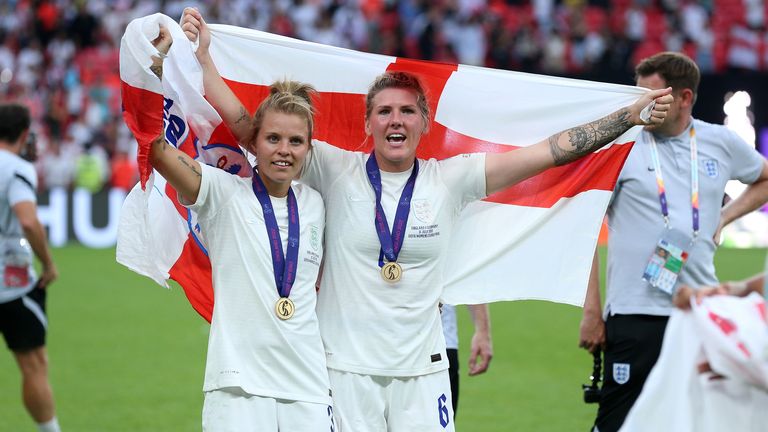 "I remember there was so much debate about it," Smith says.
"People who had watched her in the States were saying she had been superb up front; her movement had been great, she had the pace to get in beyond, she comes to feet if you need and she works really hard, so surely she had to play as a No 9?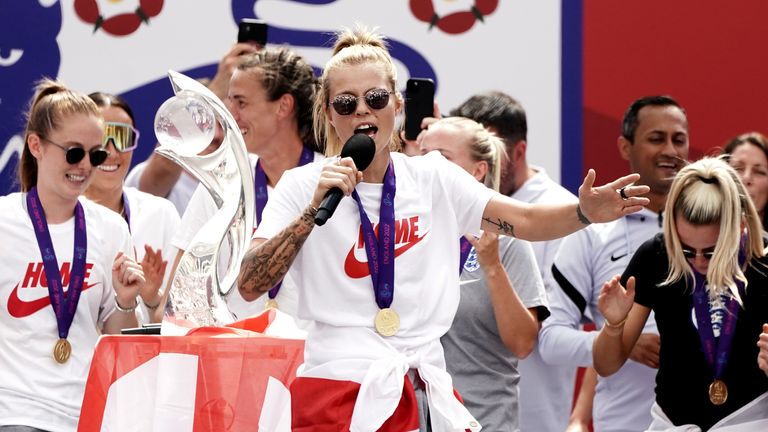 "But she did so well at full-back. I think Sarina knew Ellen White was going to be her No 9 and Alessia Russo was going to be the No 9 to come on to finish the game. Because of the competition for places there, Rach naturally fitted in as a full-back and did really well. It was a case of wanting her in the side, in whatever position that would be."
A record-equalling return to the WSL
On August 9 2022, shortly after Euro glory, Aston Villa announced they had signed Daly on a three-year deal, bringing her back to the WSL a decade after she left Lincoln to embark on her American adventure.
She posted an open letter to the Dash fans on Twitter, speaking of her "honour to play for and represent this city" and explaining how "this past year for myself and my family has been incredibly tough."
When the move was confirmed, manager Carla Ward said: "Rachel is a top forward and a proven goalscorer. Having performed admirably at full-back this summer, she showed us that she is a player you simply need in your team.
"But for us, she is a forward and we can't wait to see her scoring goals."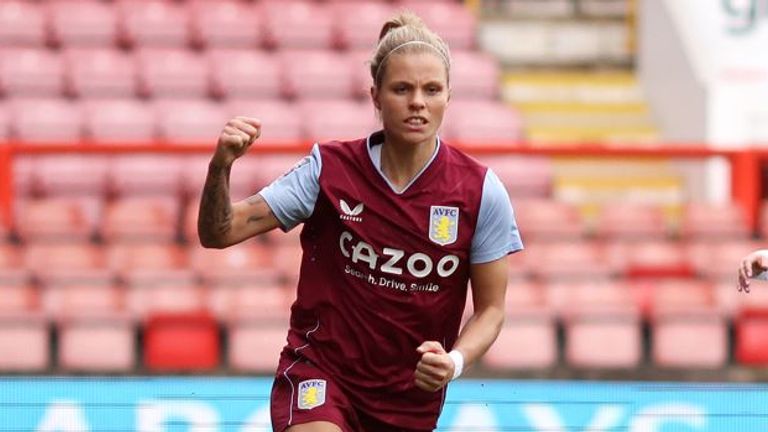 The Villa fans did not have to wait long.
She netted twice on her debut against Manchester City and had scored 10 in all competitions by Christmas – a total that included a hat-trick against Reading in November.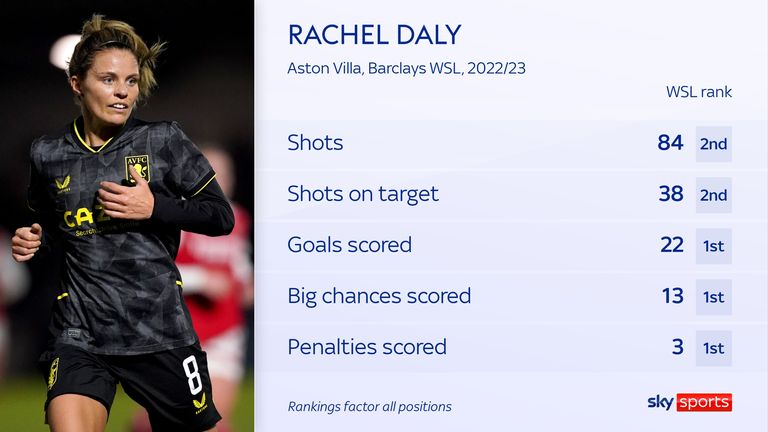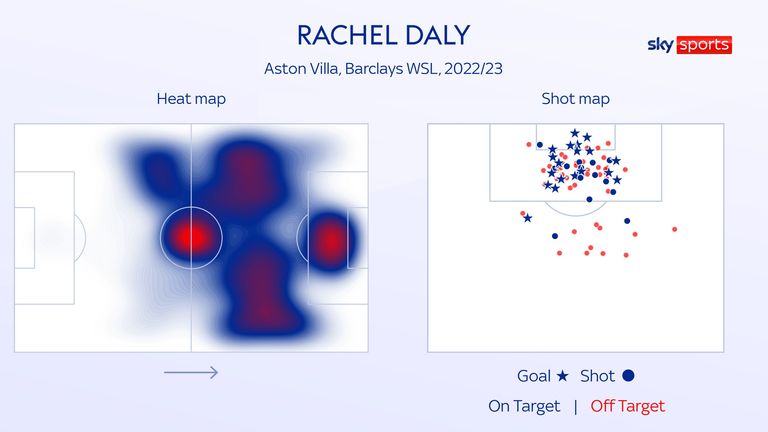 Daly ended her first season back in England with 30 goals in 30 games in all competitions. Her total of 22 WSL strikes earned her the Golden Boot and equalled the record set in by Vivianne Miedema in the 2018/19 campaign.
There was no one more deserving of the Player of the Season award.
Smith says the heartbreak of Daly losing her dad will have spurred her on to perform in his honour.
"She was so close to her dad and had that real close bond with him – I remember that from the Leeds days – so losing him must have been so hard. You can see, in all of her celebrations, she's always pointing up to the sky.
"You can see that when she plays, she has the extra drive to do well for her dad. I'm not saying that's the only thing that is driving her on, but that's certainly giving her another push.
"But I don't think anyone expected her to come home and be as good as she has been. She's been outstanding and the amount of goals that she's been scoring has been incredible. If you spoke to her, she'd say her team-mates have been brilliant and created opportunities, which they have, it's just that she's been putting them in the back of the net.
"You want to be going into a tournament scoring goals, as confident as you can be and at the top of your game, which she is."
The only question now is whether she has done enough to convince Wiegman to allow her to spearhead the Lionesses' attack at the World Cup later this month.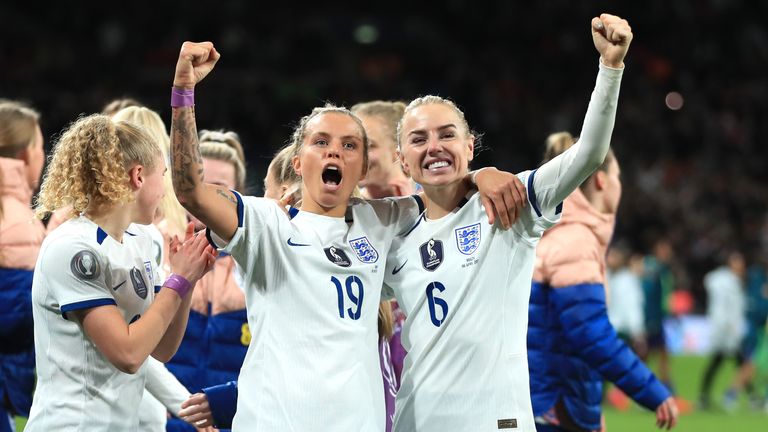 Daly started through the middle in the Arnold Clark Cup win over Italy earlier this year and responded with two goals. She also played the first half of the 0-0 draw with Portugal in the final warm-up match before the tournament.
There seems to be no current possibility of altering the setup to allow Daly and Russo to play alongside one another.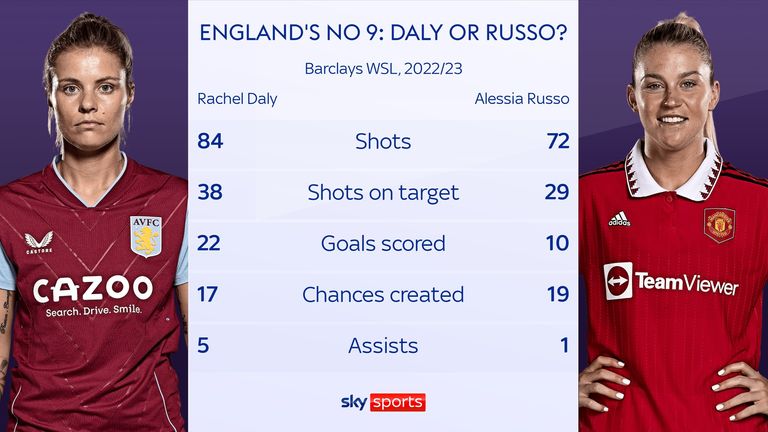 "We have played out scenarios (in training) with two centre-forwards but for now, with how we play, we wouldn't start with two at this moment," Wiegman said after the Italy win.
Having masterminded glory in three competitions – the Euros, the Finalissima and the Arnold Clark Cup twice – within the last 18 months, who is to question England's most successful manager?
The fact she has handed Daly the No 9 shirt for the tournament could, perhaps, suggest her mind is already made up regarding the much discussed battle.
With both players hoping to be England's number nine, we take a look at their best goals this season.

Smith says being handed that shirt number will mean a lot.
"She will know she's still got to work and perform, but just to get that shirt will have been a huge boost. I remember going to the Euros and getting the No 11 shirt – I knew I was a starter.
"I know Sarina probably won't look at it that way; she'll play the right player for the right game. But that will certainly add to Rach's confidence."
If Daly does lead the line when the Lionesses start their World Cup campaign against Haiti on July 22, it goes without saying that she will certainly have earned the right.
This year's tournament will be held in Australia and New Zealand making it the first-ever co-hosted Women's World Cup.
The tournament starts on July 20 with the final taking place on August 20 in Sydney at the Accor Stadium.
The USA are the defending champions and are looking to become the first team in the competition's history to win the tournament three times in a row.